Pressure Washer Accessories
Watts Steam Store can act as an expert resource for any question posed about your new or used Hotsy pressure washer. Our team can help you select the right pressure washer accessories to ensure complete longevity and success for your equipment. We offer onsite demonstrations to assist you in the decision-making process, providing tips about handling for each model of pressure washer in your individual environment. With thousands of replacement parts available from Watts Steam Store, you can also count on as your first resource for repairs or other service if your pressure washer needs a touch-up.
Common Pressure Washer Accessories:
---
ROTATING NOZZLE
The Rotating Nozzle or Turbo Nozzle is designed to use the force generated from your hot or cold-water pressure washer to clean with the impact of a zero-degree flat spray nozzle, but with the pattern of wide coverage fan spray nozzle.
---
HIGH-PRESSURE HOSES
Introducing the new Hotsy R1 and R2 high-pressure hose. The R1 and R2 hose is built to exceed the EN1829-2 Standard and will provide superior abrasion reistance that will increase the life of the hose. The R1 and R2 hose is rated up to 250°F and is available in 4000, 5000 and 6000 PSI.
---
HOTSY DUAL LANCE
The Hotsy dual lance simply out classes the competition. 35" and 48" length to meet UL Standards. Designed specifically for Hotsy to our specifications.
---
HOTSY GUNS
Designed exclusively for Hotsy to meet the demands of the high pressure cleaning professional.
---
HOSE REELS
Hotsy hose reels were designed for ease of use and durability in commercial pressure washer applications. Offering 100′ and 200′ reels in both a fixed base and 360 degree rotating base.
---
SIROCCO WATER RECLAIM SYSTEM
The Sirocco™ PEV2/30 series vacuums are affordable, effective multi-function vacuum systems on the market. Whether you're vacuuming fleets of dealership vehicles or reclaiming wash water from the job site. Features Automatic Pump Out. Available in 115V and 230V Systems.
---
FOAM CANNON
Medium volume hose-end foam gun for diluting and applying foaming chemicals to any surface. Uses standard city water pressure to draw chemical concentrate from the attached bottle and blend it into the water stream.
---
EXTENDED A WAND
High-quality telescoping wand reaches up to 24′, three sizes to choose from. Lightweight and balanced under pressure.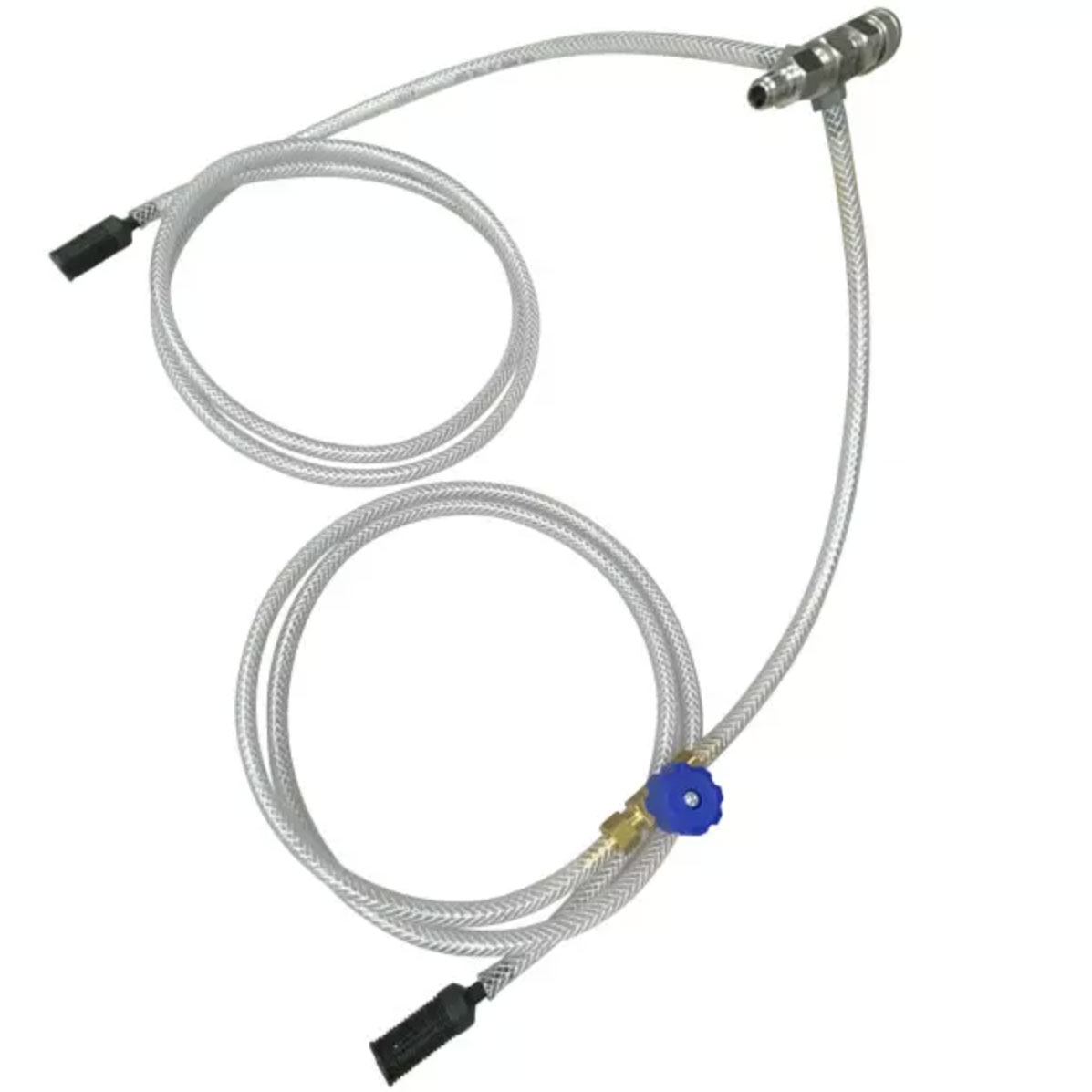 ---
DOWN STREAM INJECTOR
Projects water and chemical up to 40′. Chemicals bypass pump, lance, hose and gun for damage protection. Includes 15′ hose with in-line shut-off valve and color-coded proportioners.
---
MOSMATIC SURFACE CLEANERS
Delivers high-pressure performance with low Maintenance for any hot or cold pressure washer. Completely stainless-steel design makes this the toughest surface cleaner available in the pressure-cleaning market.
---
WHISPER WASH FLAT SURFACE CLEANERS
GPM: 4.0 – 10.0, Temperature: 212°F, Powder-Coated Aluminum Housing, Oversized, self-lubricating twin thrust bearings, Choice of two or four nozzles, 10″ Pneumatic Tires, 4″ Caster.
---
RC SERIES WATER RECOVERY SYSTEM
Recover wash water and help the environment while staying compliant. Wash water recovery is required by many cities and states. The RC Series can make a complicated wash water recovery simple. With a compact footprint and a drain port at the bottom of the tank provides an easy option to clean out sludge recovered.
---
OIL-FIRED HOT BOX
Add hot water cleaning economically! Portable water heater add-on for existing cold water pressure washers. Quick Connect to cold water washer, supply fuel and power to Euro-Heat for hot water cleaning applications – USE ONLY WHEN NEEDED and keep the convenience of the portable cold water washer.
---
SANDBLAST KIT, CARBIDE NOZZLE INDUSTRIAL GRADE
A Venturi orifice creates a uniform blast pattern, doubles sand velocity and produces up to 45% more work with 20% less sand.
Max Working Pressure PSI: 5500, GPM Max: 10.0, Temperature: 200oF
---
SELF SERVE UNDERBODY WAND ASSEMBLY
Ideal for rinsing the undercarriage of cars and trucks. Connect directly to a pressure washer gun or lnace. Lightweight, the underbody wand seembly roll seasily giving the operator a long reach.
---
GENERAL PUMP SURFACE CLEANERS
Cleans flat surfaces in a fraction of the time a hose would take. Uniformly cleans pool decks, sidewalks, garage floors, etc.
Thought I had to buy a new Steam Washer. However Watts came to my rescue. Fixed it in no time (less then a week). Wasn't one of their machines.
Thanks Watts!!!!
-Gregg C.
[/db_pb_slide]
Watts Steam Store was great. The washer I bought from them has been a great machine. It hasn't had any trouble in the 2 years I have had it. They serviced it for me and it's still running great like new. It cleans like no other. The other brands I have had don't even come close to the Hotsy I bought from them. Thanks again Watts for your tremendous service and products.
-Bart M.
[/db_pb_slide]
Looking for great pressure washer? Watts has great service, knowledge and passionate professionals who know their stuff? The guys over there really care about making you succeed. They answer the phone when you need to know something and their prices are unbelievable. Talk to Sean. He has been a huge help to my small business. He helped me make the contacts I needed and has gone above and beyond when I am in a pinch!
-Cody C.
[/db_pb_slide]
Becca went above and beyond and was awesome to help get my power washer running again. She was knowledgeable and good at her craft...she knows how and isn't afraid to turn a wrench. Highly recommend doing business with this family owned outfit.
-Chad W.
[/db_pb_slide]
[/db_pb_slider]